Smarter Solutions for Students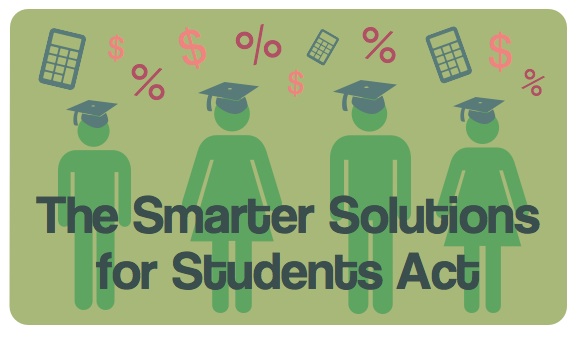 Information below reflects committee legislation from the 113th Congress (2013-2014).

By returning to a market-based student loan interest rate system, theSmarter Solutions for Students Act (H.R. 1911, also known as the Bipartisan Student Loan Certainty Act as amended by the Senate) will strengthen federal student loan programs and better serve the interests of borrowers and taxpayers.

Bill Information
Senate-amended version of H.R. 1911:
Fact Sheet: The Bipartisan Student Loan Certainty Act of 2013
Bill Summary: The Bipartisan Student Loan Certainty Act of 2013
Comparison of House and Senate version of H.R. 1911
Fact Sheet: The Smarter Solutions for Students Act
Bill Summary: The Smarter Solutions for Students Act
Bill Text: The Smarter Solutions for Students Act

Press Releases

Final Student Loan Bill Passes House, Ready for President's Signature
VIDEO RELEASE: Kline Highlights Student Loan Similarities
House Democrats Reverse Course, Back Smart Policies in Republican Student Loan Bill
Kline: Senate Compromise Reflects Smart Reforms in House-Passed Student Loan Bill
Kline Statement on Senate Democrats' Student Loan Interest Rate Games
ICYMI: Senate should reach accord with House on student loan rates
VIDEO RELEASE: Time for Senate Democrats to Step Up, Act on Long-Term Solution for Student Loan Interest Rates
ICYMI: Elizabeth Warren and Harry Reid fight Obama and the GOP on student loans
Why Do Democrats Oppose a Long-Term Student Loan Solution? Answer: 2014
Kline Statement on Senate Democrats' Inaction on Student Loan Interest Rates
LEFT TURN: Where is Senate Democrats' plan to stop student loan rates from doubling?
GOP: "Finish the job" on student loan rates
Kline: Students Deserve Better
Kline to Deliver Weekly Republican Address on Student Loan Interest Rate Debate
Kline: It's Time for Presidential Leadership on Student Loans
VIDEO RELEASE: Kline Urges President to Lead on Student Loan Rates
Kline Calls for Compromise on Student Loan Rates
ICYMI: Student loan rates: Let the market decide, not politicians
ICYMI: Rep. Messer Calls on President, Senate to Join House Effort to Prevent Student Loan Rate Hike
Left Turn: President Abandons His Own Student Loan Proposal
Revisionist History: Administration Wants a Long-Term Student Loan Fix... No, Wait, Maybe Later.
Kline Statement on Upcoming Senate Student Loan Votes
Rokita: Smarter Solutions for Students Act is a Long-Term Solution
ICYMI: Kline: Remove politicians' role, align rates with free market
Kline to Administration: Stop Politicizing the Student Loan Interest Rate Issue
ICYMI: Obama's Student-Loan Props
Left Turn: Say WHAT?? Obama Administration Plans Campaign-Style Event on Student Loans
House Approves Long-Term Solution to Student Loan Interest Rates
VIDEO RELEASE: Kline Encourages Colleagues to Vote 'Yes' on Legislation to Prevent Student Loan Interest Rate Cliff
Kline and Foxx: Getting Politics Out of Student Loans
THEN vs. NOW: Education Secretary Flip-Flops on Support for Long-Term Student Loan Solution
Kline Responds to Administration's Statement on House Republican Student Loan Bill
Secretary Duncan Joins House Republicans for Long-Term Solution to Student Loan Interest Rates
ICYMI: Reforming student loans is off to a good start
Committee Approves Legislation to Prevent Student Loan Interest Rate Cliff
Getting Politicians out of the Business of Setting Student Loan Interest Rates
ICYMI: House Republicans borrow from Obama for legislation to fix student loan rates
Kline, Foxx Introduce Market-Based Student Loan Interest Rate Legislation
Committee Activity
Markup: H.R. 1911, the Smarter Solutions for Students Act
Letters of Support


Syracuse University

The following organizations have
urged support
for H.R. 1911, the Smarter Solutions for Students Act:

American Association of Community Colleges
American Association of Collegiate Registrars and Admissions Officers
American Association of State Colleges and Universities
American Council on Education
Association of American Universities
Association of Jesuit Colleges and Universities
Council for Christian Colleges & Universities
Council of Graduate Schools
Hispanic Association of Colleges and Universities
National Association of Independent Colleges and Universities
National Association of Student Financial Aid Administrators

The following organizations have urged support for H.R. 1911 as amended by the Senate:

American Association of Collegiate Registrars and Admissions Officers
American Association of Community Colleges
American Council on Education
Association of American Universities
Association of Community College Trustees
Association of Jesuit Colleges and Universities
Association of Public and Land-grant Universities
Hispanic Association of Colleges and Universities
National Association of Independent Colleges and Universities
National Association of Student Financial Aid Administrators